Showing you inner wealth through mindset and health, one transformation at a time.
"My work is devoted to integrating mindfulness and wellness into your everyday life by helping you align with your passion and unveil the truest version of yourself."
Alyse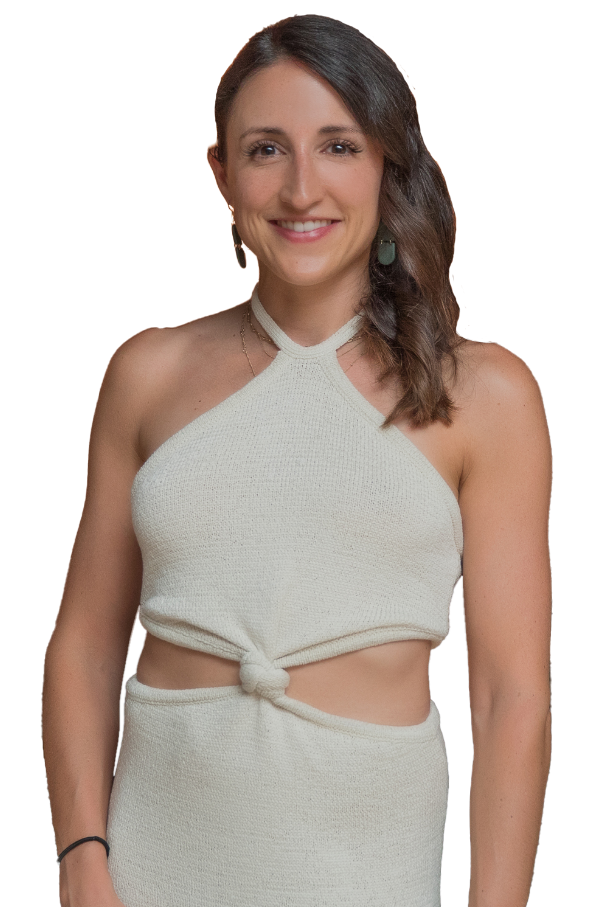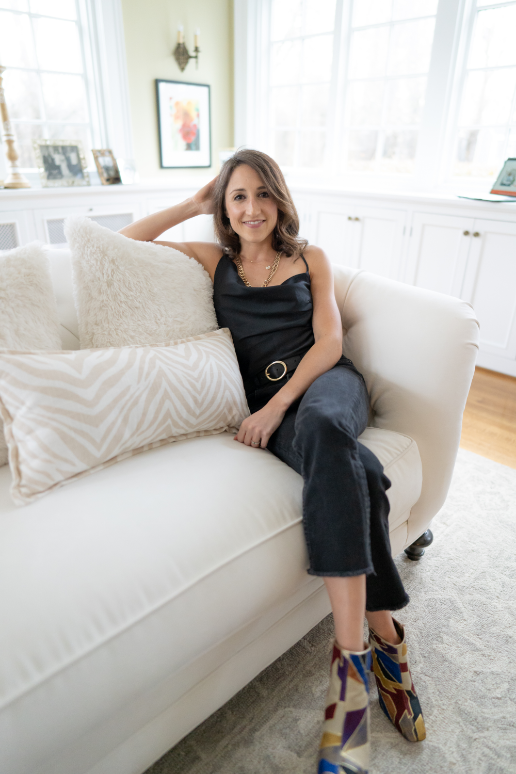 Hi! I'm Alyse
I was raised in an entrepreneurial environment where you created your path in life. Being shown by my father to go after your dreams and not sell yourself on short opportunities, I set my sights on an industry I knew I could profoundly impact: the fashion industry. 
My journey of led me to become the youngest executive for Christian Louboutin. I had reached the peak of what I viewed as a success but quickly realized that while I was fulfilled in my career, I was not fulfilled as an individual. I had a gift for building out other people's companies, but if I am honest, I had been afraid to do it for myself. 
After many years with Louboutin, I found the confidence to start something of my own when I co-founded OWN IT. Having a gift for leadership and unlocking teams' potential, I serve as the company CEO. OWN IT is an all-encompassing coaching system that helps high-performers use data-driven frameworks to increase productivity, manage stress, and take back control of your life.
From deep 1-on-1 mentorship, to full-scale company overhauls, I believe that coaching should be full-service: you can't separate the mind from the body. Your outlooks on life and deeply held beliefs intertwine with your physical activity and daily health habits. This is true on both an individual and group level.








Book a call with Alyse today!
Testimonials
What people are saying
Performance is not what you do, but who you are. Alyse cuts through the shit and gets to the core. She is a master at getting you to understand at the deepest level patterns and experiences that keep you where you are at and how to move forward in spite of them. I can't put a tangible number of R.O.I to our sessions together as I know they'll have an infinite return on the rest of my business career. I'm happy, more aware, and more motivated than ever. Thanks, Alyse for working your magic with me.
Jesse Eker
Managing Director For Harv Eker International
"Alyse has taught me how to run my body and my energy in the same way I run my business. She's extremely clear focus on data driven energy & how is unique to me has helped me understand how to control the ordinary inputs to get extraordinary results every day."
Sharran Srivatsaa
CEO Srilo Capital
"Working with Alyse was a scary decision because when you are a busy entrepreneur, you can move from one thing to another very quickly and not realize the importance of inner work. When you dial it in or have awareness of the different levels, you are able to be a better CEO and leader. When you have the tools, it becomes a game changer! I would highly recommend Alyse because it's an investment that every person should make that wants to level up and play bigger!"
Raquel Quinet
Business Growth Strategist & Coach
"Deciding to work with Alyse some 15 months ago has turned out to be one of the greatest decisions I have made... Period. In those 15 months, I have unlevelled and transformed across all of the key areas of human performance and human being-ness.
I originally came to Alyse for coaching around how to improve my health -- little did I know that I would get so much more than I was looking for. With Alyse's guidance (and quite a bit of hard work on my own account), I have made quantum strides forward on my inner-self: mindset, mental resilience, emotional balance -- you name it, I am a different human: massively evolved. 15 months. Alyse keeps you and your goals front and center, and incorporates an incredible breadth of coaching techniques to help you not only you to check off where you want to go, but many places you never thought you could. Once you commit to working with Alyse, you have made the most important decisions on your path to greatness and evolution. Now, brace yourself and get ready to live your dream.. and surpass it!"
Aaron Shumaker
Q9 Ventures
"After previously working with a mindset and leadership coach, I wanted something more action-oriented that would hold me accountable and drive change in my life. Alyse's program has been a pivotal reset with reshaping my day-to-day life and ingraining good habits that I struggled to change for years. Justin literally coached me 1:1 with identifying why my time/calendar management habits affected me from living a more complete and fulfilled life. The ELI assessment helped me understand ''who'' I am, and Alyse has been amazing in helping with mindset changes to help me be the best version of myself. Own it has been a life-changer personally and for my family."
"I was able to change my health from the inside out. The pair helped implement daily routines and workouts, diet plans, weekly check-ins, goal setting, mental pattern rewiring and overall physical and mental self-awareness. By the end of the program, I felt better than I ever had in my entire life. Continuing to use the tools they gave me, has allowed me to live with intention and purpose. My mind, body, and soul are clearer and happier than ever."
Palvesy Tariq
Global Blockchain Innovation
"Alyse takes a holistic approach to finding personal solutions for both your mind, body and soul. I have been a high performance athlete and executive my entire life but felt I had 'lost a step'. Alyse totally invested in me to change this trajectory and I am now hitting my stride again. If you feel like you have more in the tank but are not sure how to get it, I would encourage you to reach out to Alyse."
Warren Sarafinchan
CEO of BC Tree Fruits Cooperative
"Alyse has guided me through the growth process of self awareness and "showing up" as my best self. Since working with Alyse, how I show up as a leader has helped move my team toward our mission of helping more children and families. Our business has scaled considerably due to this process of "action versus reaction". My team has seen the difference in me and so has my family. We are all reaping the benefits of Alyse's guidance."
Tammy Myers
President of Mrs. Myers' Reading Room
"Working with Alyse has been invaluable in achieving a new level of mental & spiritual energy. Her practical and pragmatic approach is supported by her curious and thoughtful communication style. Her use of impressive analytical assessment tools brings a level of quantification to progress that is typically difficult to find in this field. I would highly recommend working with Alyse — and look forward to continuing to do so myself in the future."
Chris Villar
Founder of Frontpoint
Having Alyse as my coach has completely changed my life, mindset & business! In fact, within 30 days of putting together a business game-plan together with her, I was able to generate my first $170,000 in personal income in a single month (my highest-earning month in business ever!!!). Most importantly though, I was able to completely overcome my limiting beliefs about where I was stuck in my life, business & relationships. Alyse's ability to listen, care and understand are truly unparalleled as a coach. She has helped me align with my truest values and challenge my own plateaus - while holding me accountable every step of the way. Her ability to truly care, serve and coach people to their greatest potential is something unlike I've ever seen before! Considering I've spent hundreds of thousands of dollars on coaching and mentorship over the last few years, I would say with 100% confidence that my multiple 5-figure investments in her coaching programs have truly ROI'd greater than I could have ever imagined. I think her superpower is truly helping people identify & specify exactly what their goals are, reverse engineering the steps and obstacles to get there, and ultimately helping co-pilot the dreams of her clients into reality! Alyse - I cannot thank you enough for the inspiration, coaching, success and most importantly - FULFILLMENT - you have brought to my life. Your coaching has stretched me in ways greater than I ever expected!
Omar Elatter
The Passionate Few
Listen To My Podcast
Alyse is a co-host if The Own It Show with her husband, Justin, where guests talk about how they own their different.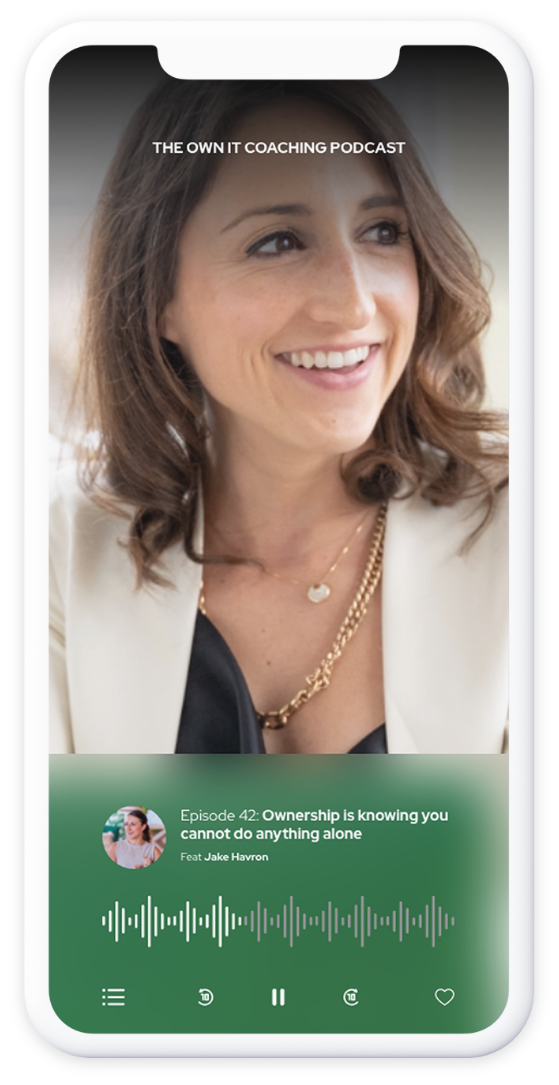 CHANGE YOUR HABITS AND REALIZE YOUR POTENTIAL
OWN IT Coaching gives you a data-driven framework productivity, managing stress, and taking back control of your life.